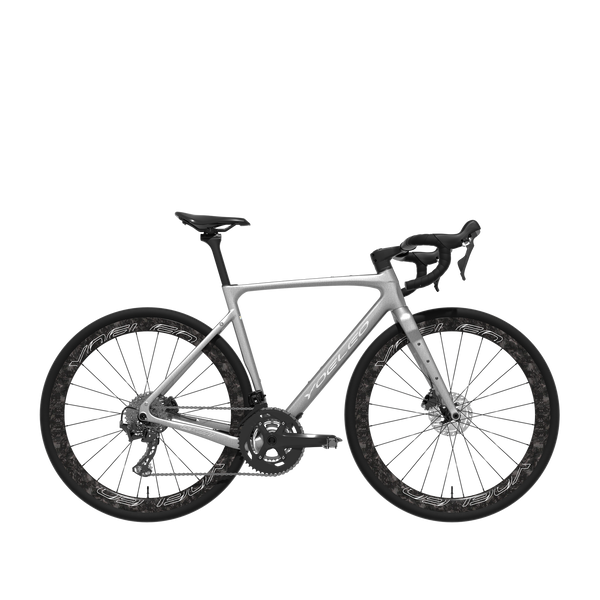 Frame Size: 45cm,49cm, 52cm, 54cm, 56cm, 58cm, 60cm.
Color: Arctic Ice/ Desert Brown / Custom Painting
UCI Approved: Yes

Frame:
YOELEO G21 Gravel Frame
Material: High Modulus Toray 800 Carbon Fiber
Rear Dropout: 12*142mm Through Axle
Rear Derailleur Hook: Replaceable
Weight: 980g+/-50g (49cm)

Fork
YOELEO G21 Fork
Material: Carbon
Head Tube: 1-1/2" Straight
Axle Dimension: 12 x 100 mm
Brake: Flat Mount
Weight: 420g+/-15g

Handlebar
YOELEO H21 Handlebar
Handlebar Size: 400mm/420mm/440mm
Stem Size: 90mm/100mm/110mm/120mm
Weight: 340g+/-15g (420x90)

Groupset
Shifter: Shimano GRX RX820
Front Derailleur: FD-RX820-F, 2x12 speed
Rear Derailleur: Shimano GRX-RD-RX820
Crank: Shimano FC-RX820-2, 2x12 48/31 1X12 40T
Cassette: Shimano HG710, 12 speed 11-34
Chain: Shimano CN-M8100
Brake: SHIMANO GRX Hydraulic Disc Brake Caliper
Rotor: Front 160mm/Rear 160mm


Wheelset
SAT C35|35 DB PRO OFFSET CX/GRAVEL
Thru Axle: 12*100/12*142
KENDA Tires 700*45C


Limited Rider Weight: 110KG                        
Warranty: 6 Years
A Game-Changer in the Market: Yoeleo G21
Riding into the future of gravel biking, Yoeleo unveils its newest masterpiece; the new and powerful G21. Packed with unique features and optimized for an unmatched riding experience, the G21 stands tall as a testament to Yoeleo's commitment to innovation, performance, and rider-centric design.
ProMoldCore Manufacturing Technology: The Future of Frames
The conventional manufacturing method that is still common practice with most companies today brings a lot of issues. Conventional methods causes undulations on the internals of the frame and even increases weight, making it difficult to achieve performance according to the specified carbon sheet specifications.Unlike traditional methods such as nylon bladders, ProMoldCore manufacturing technology allows for a more stable molding of the inside of the frame thanks to latex's flexibility and stretchability.We believe that inside out beauty applies for everything, especially for our framesets. By utilizing ProMoldCore technology, the outside and inside of a carbon road frame are of the same quality, resulting in an inner surface that is as smooth and wrinkle-free as the outer surface.The use of latex increases the pressure of the molded latex bag, smoothing the internal finish, improving the compressibility of the compound, reducing resin waste, and allowing for more complex shapes to be made.
Yoeleo ProRoute System
The ProRoute Stem System introduces dual mounting solution for internal cable routing, catering to both the complete internal cable routing (Y-ICR) and the semi-internal cable routing (S-YICR) with sleek, removable spacers. This design ensures hassle-free installation.
More Than Versatile
With the ability to accommodate tire sizes up to 53c, the G21 redefines versatility. You can effortlessly adapt to different terrains and conditions, amplifying G21's all-around performance and making it the only bike you'll ever need for any adventure.
Optimized Geometry for Unmatched Stability
Yoeleo G21's geometry is optimized for gravel and packed with features that will ensure stability on the road; a longer wheelbase, slack headtube angle, and shorter stem promises exceptional stability and comfort on even the most uneven terrains. G21 allows you to be in full control of the roads you're traversing no matter the conditions.
All-Terrain Capability
Any frame can take on any terrain, but G21 doesn't take on various terrain – it conquers all of them. Its robust construction and wide tire clearance allow it to run on anything, from smoothest roads to the toughest trails. Any frame can take on any terrain, but nothing like G21 does.
Quality You Can Trust
With a 6-year quality warranty on the frameset and handlebars, and an optional lifetime warranty, Yoeleo stands firmly behind the G21's quality and longevity.
CRASH REPLACEMENT
We hope you don't need this but if you have a crash, we offer a 30% crash replacement discount on all wheels and framesets. Please contact us and we'll do our very best to help you and ride again ASAP.
We always want to delivery the best products to our customers, we improved our G21 for 2023 to delivery the best performance
Check the video for more details