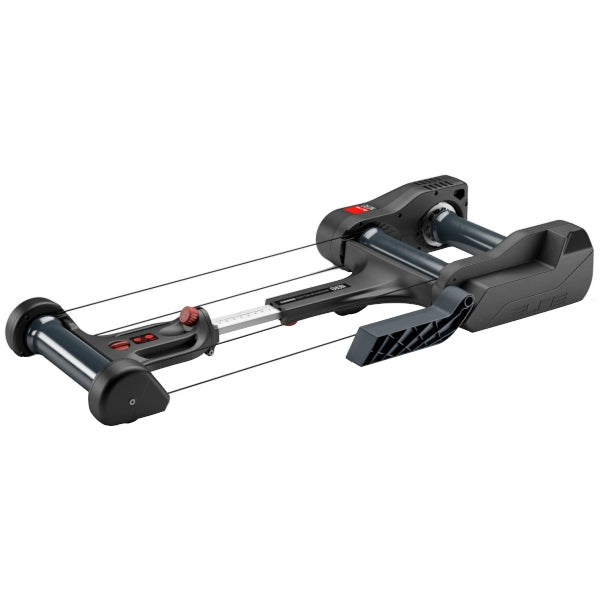 ELITE NERO INTERACTIVE SMART ROLLERS
The ELITE NERO Interactive Smart Rollers system combines the best qualities of rollers and direct drive smart trainers. This trainer provides excellent ride characteristics, pedaling smoothness, real road feel and interactive resistance training utilizing ANT+ and Bluetooth connectivity to popular training apps.
A number of innovations make the NERO intuitive and accessible to use, even for riders new to rollers. A fold-down step makes mounting and dismounting a much easier process and parabolic rollers gently guide you back toward the center if your wheels wander. Elite's Quick-motion technology allows the rollers to smoothly shift to absorb jerky movements, while twin 2.7kg flywheels provide a "real ride" feel that you'll notice for out of the saddle efforts. The Elite NERO trainer is compatible with interactive apps such as Zwift, Trainer Road, Rouvy, Sufferfest etc., providinggradient simulation up to 7°.
Quietness: The totally smooth surface of the rollers decreases noise and tire wear.
Storage and transport: NERO quickly and easily folds down with one simple movement, so it reduces clutter by 50% when not in use. Folded, it's easy to transport via its integrated ergonomic handle on the frame and its locking system.
Dimensions: 125.5 x 36.0 x 20.4cm (opened for use) |  Weight: 19.2kg

FEATURES
*Parabolic roller edges help guide your wheels back to center.
*Roller surface is smooth, anti-static plastic that reduces noise and tire wear.
*Twin 2.7 kg flywheels provide a smooth, "on-road" feel.
*Quick-motion technology allows rollers to handle imbalances and absorb jerky movements, smoothing out the ride and making it easier to ride out of the saddle.
*11 different adjustment positions provides compatibility with both road, gravel and mountain bikes allowing set-up of the perfect length for your wheelbase.
*Choose a course or a training program connected with an interactive training app and resistance adjusts automatically.
*Compatible with interactive apps: Zwift, Trainer Road, Rouvy, Sufferfest etc..
*Gradient simulation up to 7°.
*Automatic electromagnetic resistance.
*Max power of 1360 watts.
*Speed, cadence and power are broadcast via ANT+ and/or Bluetooth smart to your bike computer or phone.
*ANT+ FE-C and Bluetooth smart control provide resistance adjustments in conjunction with your training app (Zwift etc.)
*Fold-down step takes the stress out of mounting and dismounting.
*Trainer folds down for compact storage or transport.
*Provided with free 12-month subscription to ELITE E-Training software and app.