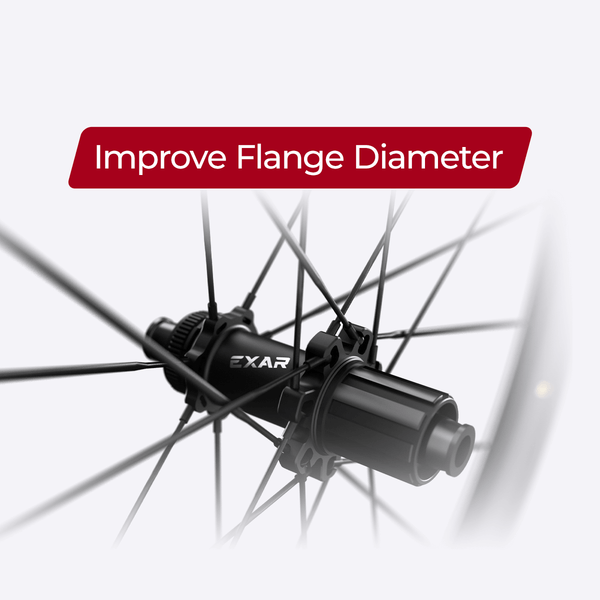 External rim width: 30mm
Internal rim width: 23mm
Brake: Center lock disc brake
Spoke type: Pillar wing20
Front wheel spoke tension: 100kgf±10%
Rear wheel spoke tension: 120kgf±10%
Front wheel spoke lacing pattern: 21H, 2:1, Brake side×2, Non-brake side (Straight Pull)
Rear wheel spoke lacing pattern: 24H, 2:1, Drive side×2, Brake side×2
Rim type: Non-asymmetric
Package Including: Carbon fiber front wheel*1, carbon fiber rear wheel*1, tubeless rim tape*2 (factory-installed), instruction manual*1, tubeless valves*2
EXAR Ultra wheelset is designed for ultimate performance. The wheelset is fully equipped with top-level materials from spokes to bearing, creating elaborate hub and rim. No matter in terms of appearance, quality or speed, EXAR Ultra has been improved to a higher level. The difference in details will take riders to the lead on the field.

Riders want wheelsets that are lighter, stiffer, and faster. EXAR engineers have risen to the challenge with Ultra wheelset to help riders ride faster in the race. The EXAR Ultra wheelset applies HI-MOD T800 carbon fiber, following the integrated and systematic design. The primal materials allow a great reduction in weight while retaining outstanding stiffness. These help riders get a smooth start and faster acceleration.


30mm Width Rim, More Aerodynamic and Comfortable
A 30mm width rim and 23mm internal width are purely designed for disc brake structure. It ensures optimal aerodynamic performance in complex wind conditions, improving stability in crosswinds as well.
After installing the 28-32c tire, the contact surface between the tire and rim is flat. As a result, It creates a flatter aerodynamic surface and enhances cycling
Lower Front Wheel and Higher Rear Wheel Design
The EXAR Ultra wheelset features a new design concept of a low front wheel and a high rear wheel. While ensuring high inertia of the rear wheel, also keeps the controllability of the front wheels, allowing the rider to ride more efficiently and stably.

Full Carbon Fiber Spokes, Contribute Ultra-Stiffness
EXAR Ultra carbon fiber wheelset features HI-MOD T800 carbon fiber spokes. Each spoke weighs only 2.8g, 30% lighter than top-level steel spokes. Carbon fiber spokes have higher tensile strength and can withstand 30% more tensile force. Lower strength loss of transmission brings higher driving efficiency. The wheelset applies a 2:1 balanced lacing pattern, which distributes tension perfectly. The spoke tension of the rear-wheel drive side is 130kgf±10%, and the non-drive side is 110kgf±10%.
Ceramic Bearing, Smooth And Durable
Compared to steel, ceramic is lightweight with low resistance, which can be used to make smoother bearings. A well-made ceramic bearing has lower resistance, thus saving you energy and allowing rapid acceleration.
The contact surface of the bearing and body is processed with smooth edges to create precise synergy.